Cross-Training

& Bodybuilding

Invented in the 70s, Cross-Training is a high intensity circuit training discipline where the objective is to perform exercises in a given time. This discipline combines endurance, weightlifting, athletic strength, concentration, precision, agility and balance, and is aimed at all audiences whose goal is to surpass themselves.

Cross-Training is one of the most complete sports based on improving physical and mental performance, and proves to be very effective for weight loss.This new form of training is very much in vogue today. and continues to attract more and more people.

Cages & Cross-Training Circuits
NineStars offers for practitioners and professionals of this discipline high-end professional sports equipment dedicated to Cross-Training to equip your sports halls, or outdoor spaces.
Professional hexagonal cages
Our Pro Circuit Training hexagonal cages are high quality products made of powder coated steel and equipped with multiple stations for rotating team exercises.
The cages are fully customizable according to your needs. It is possible for you to make a simple cage with a reduced number of posts, or to complete it as much as possible with the NineStars Cross-Training accessories that you can find on our site DragonSports.eu .

Cross-Training Cage
We offer a Cross-Training cage model sold fully equipped (except Olympic bars and weights sold separately), ideal for a complete and multi-position training, at a very competitive price.
The elements are in anti-corrosion matt black treated steel, with standard dimensions.

Dimensions
Height:

271 cm
302 cm with target ball target

Length:

241 cm
336 cm with pull-up scale

Width: 127 cm
Quick and easy assembly with bolts provided, in 3 to 4 hours
Cross-Training Wall Cages
We also have a range of Monkey bar wall cages (horizontal ladder) that attach directly to a wall with spit screws, saving space by taking advantage of a wall surface.
This type of cage is designed for training length crossings using arm strength bar after bar, the objective being to strengthen grip power, and to strengthen the upper body (complete work).
The wall cages can be used as a basic element and be customized to your needs with the Cross-Training NineStars accessories.
Models and dimensions
Minimum size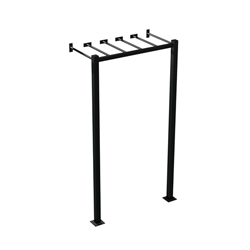 Size medium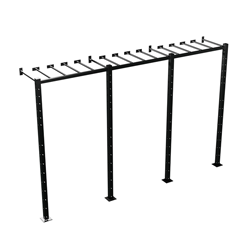 Customizable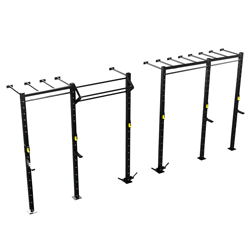 Prices and deliveries
Our Pro Circuits Training hexagonal cages are very high-end products of superior quality and can be personalized according to your needs. The price of an order must be established on an estimate.
For other types of cages, prices start from € 500 for a minimum size Monkey Bars Wall cage.
Deliveries are made throughout Europe, and also outside Europe on request, with manufacturing times estimated at 45 to 65 working days for hexagonal cages.
Bodybuilding equipment
Power Rack
The Power Rack or squat cage will allow you to perform many barbell lifting exercises in complete safety.
It is equipped with storage bars for the weight (weight horn), arms to rest the bar (spotter arms), and has a height of 210 cm and a length of 150 cm.
Monkey Pull-up Ladder
This ladder is intended for pull-up exercises, in this case Monkey consisting of climbing to the height of a pull-up bar. This fairly advanced technique uses all the muscles in the upper body, keeping the whole body under tension.
You can hang elastics and straps on it, or choose to fix the ladder against a wall (with spit screws). This ladder is also adaptable on cage and Cross-Training elements.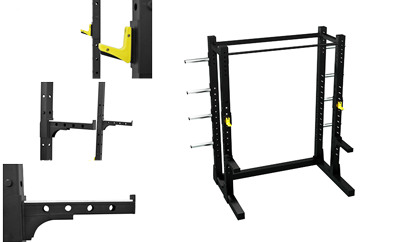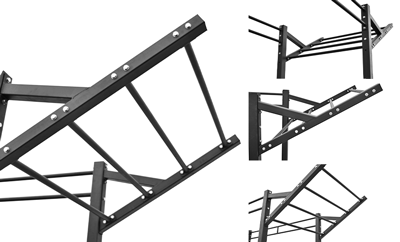 Roman chair
Height: 175 to 235 cm
Width: 90 cm
Depth: 130cm
Pull-up bar width: 110 cm
Bench length: 109 cm
Bench width: 23 cm
Bench height: 41 cm

Weight machines
Straight bench
Tiltable bench
Bench with barbell rack
Retractable bench
Semi-pro bench

Olympic weights and bars
Our NineStars chrome Olympic Cross-training bar is capable of supporting up to 350 kg and offers a very good grip. Its length is 220 cm and a weight of 20 kg.
Also find the Olympic weight set for barbell available from 2.5 kg to 20 kg. The weights are cast steel covered with a thick rubber coating for safety in the event of a fall with handles offering easy grip to prevent the weight from slipping out of the hands. The center of the weight is made of stainless steel, and all weights have an internal diameter of 5 cm.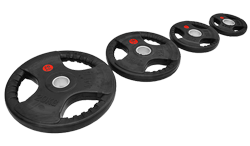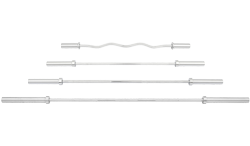 Dumbbells
Hexagonal dumbbells
4 to 20 kg
Vinyl outside
Steel inside

Kettlebells
The kettlebell is an essential tool in cross-training, due to its versatility and versatility. In fact, few accessories allow you to work on strength, endurance, cardio, agility, explosiveness…
NineStars offers a complete range of cheap kettlebells with weights ranging from 4 kg to 20 kg. The core is made of concrete and the outside is made of vinyl plastic.

Pull-up bars and wall brackets
Pull up bars
We offer two models of chin-up bar with non-slip pads, ideal for home strength training.
The bars attach to a door without the need for holes thanks to the width adjustment of the bar and the non-slip cushions located on the ends, with a locking gear system that increases the contact area and distributes the weight to the maximum in order to reduce the pressure and avoid damaging the doors.
The telescopic lengths offered are from 92 to 120 cm and from 65 to 200 cm, the stainless steel pipe is resistant and supports up to 800 kg.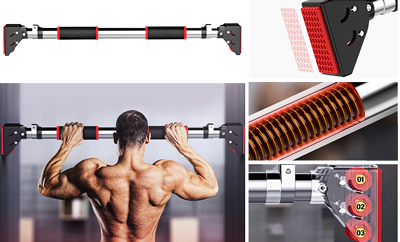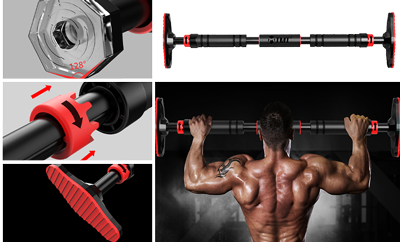 Wall brackets
Our wall-mounted pull-up bar models are also made of stainless steel, their structure is very solid, and two suspension straps are sold with them.
The jib cranes are fixed against a wall (preferably a load-bearing wall for optimal stability) and allow the practice of pull-ups while using several grips.
The handles are comfortable, wear-resistant and non-slip, and thanks to the rings, you can hang other fitness accessories such as a punching bag, a rope or even suspension straps.


Floor coverings & accessories
Cross-Training slabs
This product for cross-training is high quality equipment. It is an ideal floor covering for equipping sports, cross-training, fitness or weightlifting rooms.
Designed to support the weight of dumbbells and weight lifting bars, the slabs are very dense and very strong and have a high absorption capacity (1000 kg / m³).
We have had very positive feedback from cross-training rooms equipped with our tiles concerning their very good reaction in terms of absorption.
By way of comparison, the tiles that equip most weight training rooms are 1.5 cm thick and often have a density of less than 600 kg / m³.
In addition, our products have a completely smooth surface appearance: an important detail that allows easy maintenance and cleaning, unlike other tiles which they will have roughness and will stick: which makes cleaning difficult.
These tiles have been studied and designed in partnership with cross-training and bodybuilding professionals in order to achieve the best possible quality / lifespan ratio.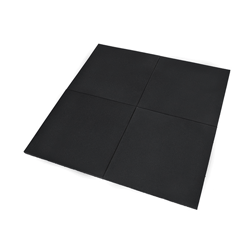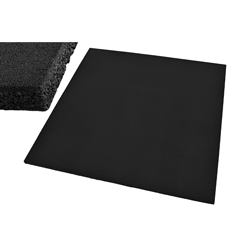 Height: 175 to 235 cm
Width: 90 cm
Depth: 130cm
Pull-up bar width: 110 cm
Bench length: 109 cm
Bench width: 23 cm
Bench height: 41 cm
Weightlifting Puzzle Slab
This type of slab is intended for weight training rooms where machines and dumbbells are placed.
Indeed, perfectly suited for its environment, the slab is designed to support the weight of dumbbells and weightlifting bars and in particular to support the weight of weight machines.
These tiles have also been studied and designed in partnership with professionals in the bodybuilding industry in order to be able here also to achieve the best possible quality / lifespan ratio.
Thickness: 1 cm
Dimensions: 50 x 50 cm
Weight per tile: 2.7 kg
No need for glue for installation either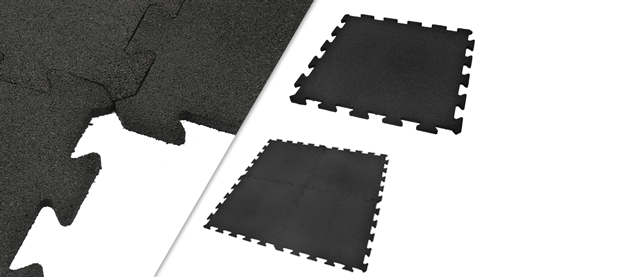 Cardio / speed equipments

Other accessories