Boxing
Equipment
Boxing introduction
Boxing is probably one of the oldest sports in the world, initially it was referred to as boxing and pancreation. But since boxing has evolved a lot, and if English boxing remains its parent discipline, there are different types of boxing, each with their own specificities such as French boxing, Thai boxing or even kick boxing.
With huge numbers of followers today, boxing is one of the most complete and spectacular contact sports. Very beneficial for physical and moral health, this sport allows quality muscle building, develops precision, confidence and self-control, agility, techniques, and above all instills mutual respect.
In order to meet your expectations in terms of equipment for rooms, boxing clubs or spaces dedicated to the practice of this discipline, and allow you to ensure training and fights in the best conditions, NineStars presents you its range of top quality professional sports equipment and equipment with an unbeatable value for money.

Boxing Rings
NineStars offers complete professional tailor-made equipment to guarantee the most extreme training sessions as well as boxing competitions or championships.
The NineStars boxing rings meet the standards perfectly and the training rings are compact and do not require fixing, which may therefore be suitable for a club whose space must remain flexible.
Boxing rings on the ground or on a platform
The boxing rings on the floor are designed to ensure intensive training and are suitable for the practice of any combat sport.
Platform rings are ideal for training and preparation for competition.
The frame and the posts of our rings are in steel alloy, with melamine floor for rings with platform. They come with a full standard three-string rope (four on request), and a premium heavy-duty PVC floor covering tarpaulin.
We also offer you a 4 cm thick EVA foam mat for any ring order, perfect for absorbing shocks and ensuring optimal safety.

Rings of competitions
Our platform competition rings fully comply with international amateur boxing standards (AIBA), and are designed for any international amateur competition.
The weight of the rings is between 1200 and 1450 kg, and assembly and disassembly are easy. The structure and the posts are in galvanized steel with a melamine floor, and the platform is supported by metal cross members.
The rings are delivered with a standard rope complete of four 5mm braided steel ropes covered with PVC, 4 PVC ring corners, 16 rope tensioners in their respective covers and 8 PVC spacers with Velcro closure.
We have a pack that also includes a ring skirt, two stairs and a PVC floor covering tarpaulin.

Dimensions and height
Our ring models are available in different sizes to suit your needs:
4 x 4 m to 7 x 7 m (outer size, deduct one meter to get the inner dimension).
7.80 m x 7.80 m for the competition rings.
The platform height can vary from 30 cm to 50 cm and from 80 cm to 110 cm for competition rings.

Price and customization
We offer a range of high quality boxing rings at very affordable prices.
Ring prices start from € 4,390 for a ground ring, and € 6,990 for a platform ring.
Our products are fully customizable and are tailor-made, you can have your club logo appear in the center of the ring and choose the color of the posts, ropes, corners, tarp and platform.
Boxing ring accessories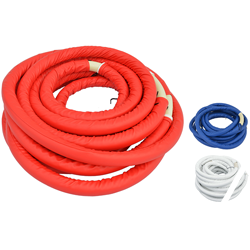 Ring strings
For our boxing ring ropes we have a standard type model and a high-end competition model. The ropes are made of braided steel cables and are supplied with their foams and a resistant PVC coating (sold individually).
They are available in White, Blue or Red and for different ring sizes:
4 x 4 m (i.e. 16 m of rope)
5 x 5 m (i.e. 20 m of rope)
Designed to withstand high tension, these ropes are perfect for training or amateur competition.
Ring corners
We offer standard or wide ring corners with bulge, sold individually, made of EVA foam with PU cover closed with zip and fitted with Velcro fasteners for rope attachment.
For the standard model the dimensions are 110 x 27 x 15 cm (height x width x thickness) for a weight of 0.6 kg.
The bulge model is wider than standard corners, and has a bulge that protects the ring tensioner for maximum safety.
Its dimensions are 110 x 40 x 15 cm, plus the 60 cm deep horizontal bulge on the top (60 x 40 x 15) for a weight of 2.3 kg.
For our range of ring wedge sets, the characteristics are exactly the same, sold in sets of 4: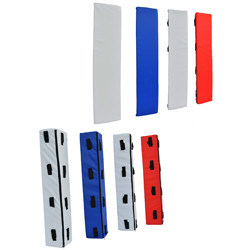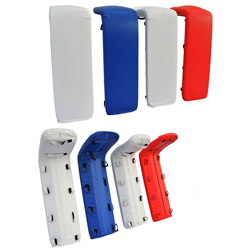 Boxing ring cover
Choose your customizable boxing ring tarpaulin, made of PVC or ultra-resistant cotton, of excellent quality, intended for intensive use and competition.
Designed to cover the surface of your ring and give it a unique style, our tarpaulins are fully customizable in the colors of your choice.

Support cage and rails for punching bag
Punching bag support cage
Discover our cage complete with support for the standard type NineStars punching bag, the dimensions of which are 390 cm x 190 cm, on a height of 270 cm (height of the attachment bars of the punching bags).
A monkey bar ladder is integrated into the structure all along the cage (ladder wave offset by 20 cm) and suspension ropes or resistance bands can also be attached to the uprights for muscle strengthening.
The structures are made to order and tailor-made according to your room and the colors are customizable according to your choice.
The dimensions can be completely modified according to your needs to adapt the structure to the space you would like to devote to it.
Constructed of reinforced steel, the structure is able to support a total of 6 punching bags of up to 180 cm (45-90 kg per bag). Splitted on the floor, it will withstand the most intense training sessions of several athletes at the same time as well as sustained and regular sessions.
We can adapt a sliding rail on the structure for the installation and the quick storage of punching bags for non-punching sessions. Access to the cage then becomes entirely dedicated to cross-training and bodybuilding.

Punch bag rails
Tailored
We design custom made punch bag rails with steel extension.
The rails are supported by a suspended load-bearing structure. This equipment is the solution to optimize your shared spaces.
On gallows
On the other hand, we also design sliding rails on wall brackets, equipped with the latest generation of sliding caterpillar ball bearings on round rail with locking system for bags.
The reach of the gallows is more or less 80cm (distance from wall - hanging bag).
Punch bags and speed pears
Punching bags
Our punching bags are inflatable, sold with a manual pump, and mounted on a stand. They are made of thick PVC, which ensures safety and durability and can be folded up for easy storage.
Punching bags are very practical in improving reflexes and coordination, or for doing sports at home, indoors or outdoors and are also very beneficial for burning calories and relieving stress. .
This product is suitable for adults and children over 6 years old, and is also easy to inflate and deflate. The base should be filled with water for optimum stability.
Height: 150 cm
Diameter: 45 cm
Speed pear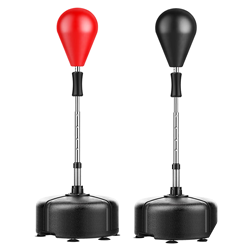 The speed bulb is very easy to install and move.
The ball is made of very durable thick high density polyurethane leather with a highly elastic lining and the 82B carbon steel spring with rapid rebound up to an angle of 90 °. The rod is made of stainless steel and the plinth can be filled with sand or water for added stability.
The Height is adjustable from 120cm to 160cm and it has 6 rubber suction cups on the underside for good grip and is suitable for all types of floors (cement, marble, parquet, carpet, etc.).
NineStars Max punching dummy XL
The NineStars punching dummy is the benchmark for high-end punching equipment. At home or in intensive use in a club, it will hold its own and allow you to train relentlessly.
Designed for fist & hand use, it will allow you to practice grips, percussion and precision on a realistic target.
Its punching bag bust absorbs and resists blows. It is mounted on a base that can be filled with water or sand and the surface is smooth and waterproof, which makes cleaning easy.
The bust is easily removed from the base, which can therefore be placed indoors or outdoors according to your needs and the bust stored independently if necessary (the base fits into the bust).
It is one of the most popular flagship products in the world of combat sport, as well as the martial arts. It adapts to any type of contact sport with feet and fists.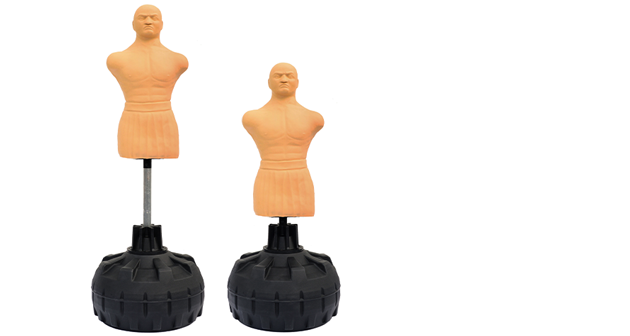 High quality reinforced steel frame
High resistance to blows, shock absorption
100 kg weight filled with water
160 kg weight filled with sand
Height adjustable from 160 cm to 200 cm
Rungs at different heights for optimal adjustment
Robust fixing (screw and not rung)
1 year manufacturing defect warranty
Base dimensions: 120 x 50 x 23 cm
Model size alone: ​​98 x 54 cm
Other equipment material
NineStars also has other specific quality accessories and materials for your training surfaces and the maintenance of your boxing rings such as tensioners with hooks, fight rope hooks, sets of rope separators (between ropes) or still staircase for boxing ring.